We Write Business Plans That Secure Financing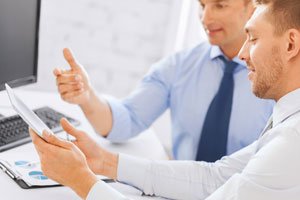 Sharp Business Plans writes clear and concise business plans that will prove to lenders that your new venture is well thought out, competitive and has a high probability of succeeding, in short — that it is worth financing.
Our team of business, marketing, accounting and writing experts will take the time to learn about your business. We analyze your financial assumptions and projections to ensure they are realistic and that your new business will have enough cash flow to repay lenders or investors.
The Strengths of a Sharp Business Plan
We are not "just" business plan writers. Our parent company, AMA Management, is a business consulting firm; we are business consultants who also write business plans.
We actually care about you and your business, so we provide an initial consultation at no charge. If we don't think your business has a reasonable chance of success, we will discuss the reason(s) with you and we won't charge you to write a plan without a good chance of it working for you.
Business Plan Results
Our results? You'll receive a well-written and customized business plan that gives lenders all the information they need — and gives your start-up the best chance of receiving the financing it deserves.
Consumer Confidence
As an industry leader, Sharp Business Plans has achieved an A+ rating by the Better Business Bureau, maintaining the highest standards of customer trust and business practices. Additionally, Barry, Founder & President is past BBB chair on the Board of Directors serving Mainland B.C.
Let's talk about your business. Call us at 1-800-661-9842 toll-free or send us an email at [email protected] to find out about our services.